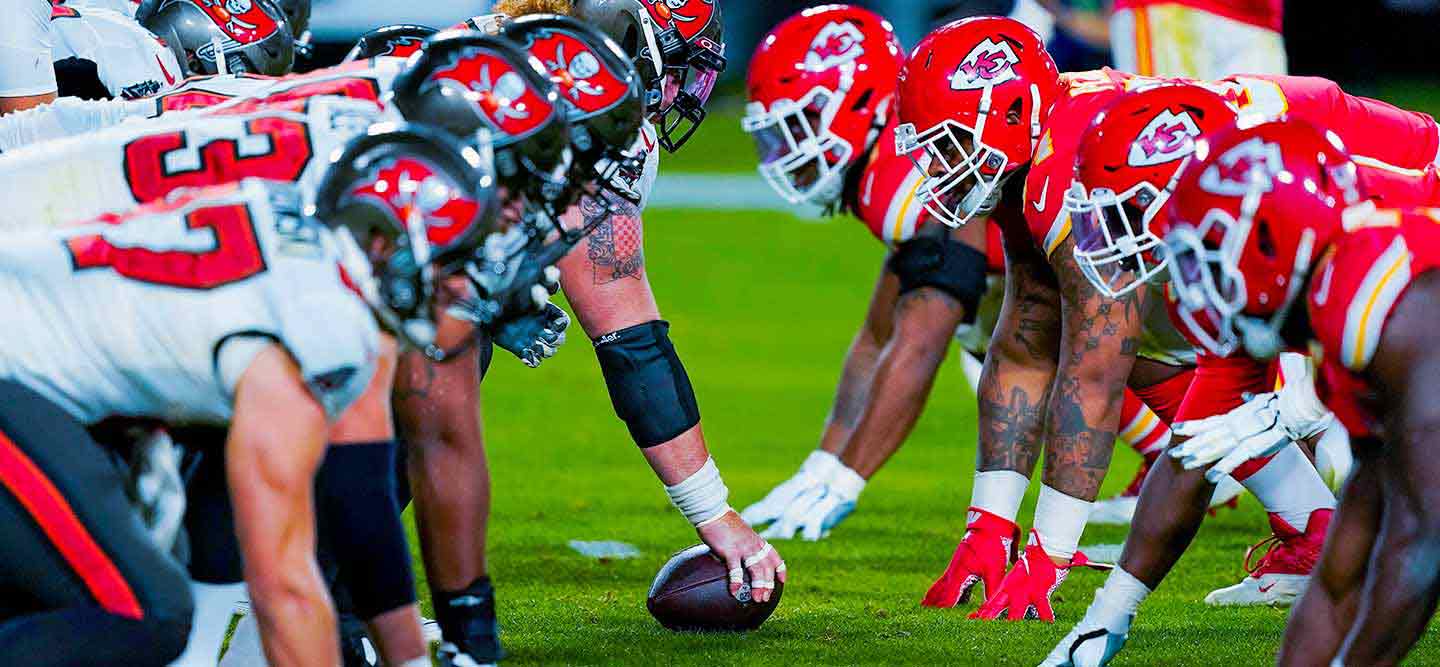 How to bet on Sports
Locking in a bet on a sporting event is the beginning of the game, not the end! Live sports betting offers wagers all the way through the action. Find out how!
How to Bet on Live Sports at Bovada
We all know that you can bet on a sporting event. But with modern Bovada sports betting, you can bet all the way through the game, if you want to. It's a little thing called "live betting," and it makes pretty much any game more exciting than ever before.
How many times have you been watching a game and wished you could make a new bet on it at Bovada? Maybe you want to double down on your prediction because it looks to be a lock. Or maybe you've realized that your first bet solid, but you want to go in the other direction with a hedge that has attractive odds. Or it could be that new facts have come to light and you're ready for a fresh wager.
No matter what makes you want to get in another bet, at Bovada, betting live on sports is totally open from start to finish.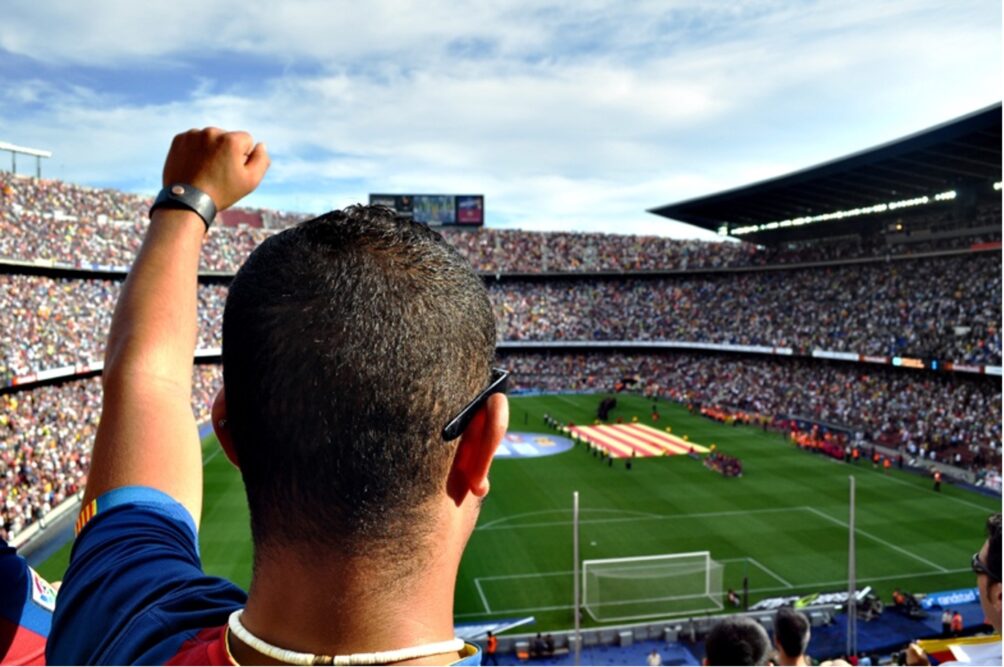 How Live Betting Works Online Overall
You may already know where the sports betting Bovada offers can be found. If not, just click the word "Sports" at the top of the website. You can then get to live sports betting two ways. One is to click the antenna icon with the radio waves that says "Live." The other is to click into your favorite sport and scroll down to see games that have a yellow "Live" box next to them.
Once you're into a match, a whole new set of betting options opens up. If you looked at the Bovada betting line before the game started, you may see that it's changed! Lines move throughout the game as events take place – teams scoring, players going down with injuries, and even the volume of bets going in on a particular side of a wager. One team may start the game as a favorite, but go down two scores and suddenly find itself a moneyline underdog in the Bovada sports betting odds. But if you happen to know that the team in question is always good for a point or two later in the game, an exciting betting opportunity just opened up, right?
That's how it works!
Live Betting Football
In football, after the kickoff, the action begins. So why not kickoff four quarters of Bovada betting at the first whistle, too? That's what we're all about.
Live betting football at Bovada usually offers changing moneyline bets first. Here you can see the odds update in real time as each down and drive brings one team closer to a victory, and another team yards further away. Even as you review the odds, you'll see them change, so if you find odds you like, get your slip confirmed fast to lock in a smart bet.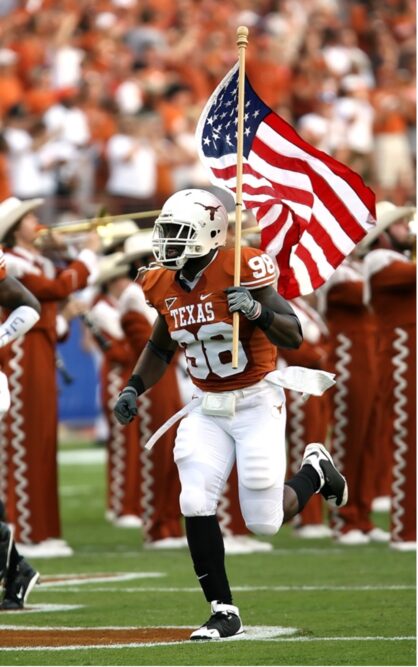 You may also be offered a selection of spreads and moneylines if you'd like to bet on different odds. There will be a different price for each, giving you more choices and the ability to find the bet you like best.
You'll see other familiar bets updating as the downs go on, like over/unders and total points for each team. For live football sports betting, Bovada also offers a number of prop bets like the outcome of the current drive, or whether a team will get a first down on a particular set of downs. 
If you've got a hunch or you're aware of a team or player's tendencies, keep an eye on the live football bet section. Make all those hours you spent keeping up with football pay.
Live Betting Basketball
Right from the tip, Bovada sports betting on basketball takes game watching to a whole new level. Before the game started, you no doubt had an idea of who was going to win. But let's say that, by the end of the first quarter, it's clear that one team's hot shooter is ice cold (and not in a good way). That's a great time to head to the live basketball section of the Bovada betting portal and see how the odds have changed.
Like football, you'll first see the moneyline bets available. Here's an example from the Turkish Basketball League: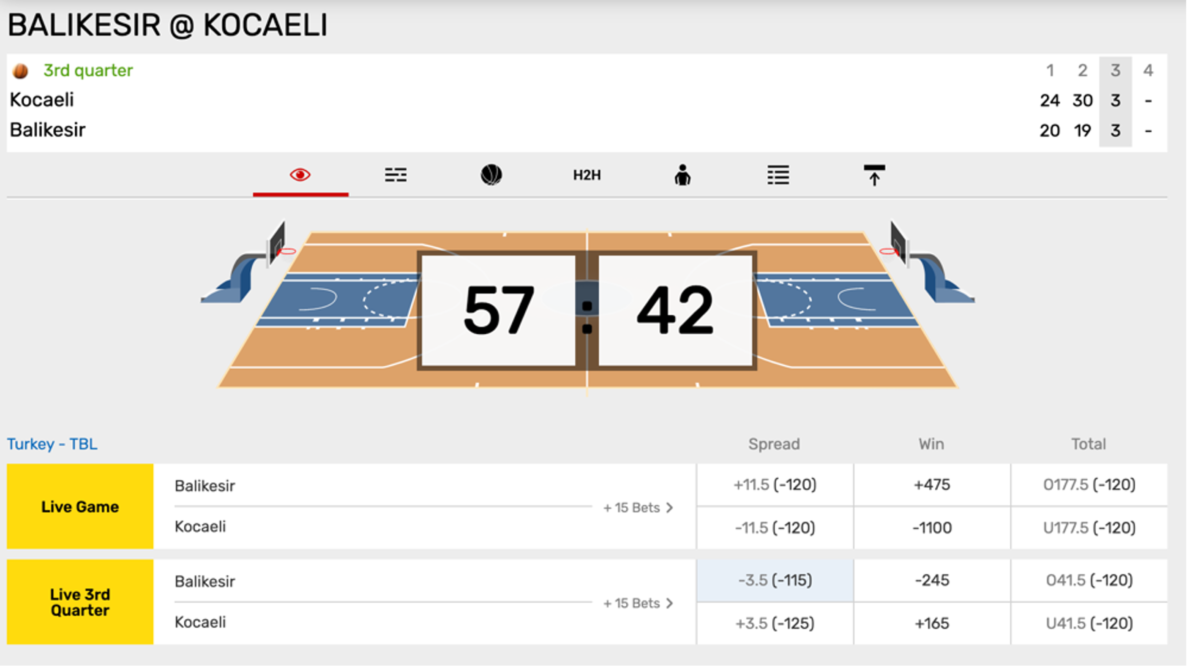 Kocaeli is up by 15 points, and is the overall favorite. You could bet the 11.5 point spread at -120 (shown in the Spread column). This means that a bet of $120 will win you a hundred bucks if Kocaeli wins by 12 points or more. 
You could also bet the moneyline on an outright winner. These odds are found in the Win column. Kocaeli is up by a good amount on the scoreboard, and so it's likely that they will win. They are favored at -1100, which means that a bet of $1,100 wins you $100 if Kocaeli holds on to the final buzzer and wins. 
On the other hand, if you think Balikesir is going to go on a big run, you might bet that +475 underdog line. A hundred dollar bet wins you $475 if Balikesir scoring leader Myles Mack (from Paterson, New Jersey) gets a hot hand and starts making it rain overseas, carrying his team to a late win.
You can also bet the over under, which updates regularly, and also wager on "Race To" prop bets, where you can choose which team will be the first to get 10, 15, or 20 buckets in a quarter.
When it comes to sports betting, Bovada keeps it fresh.
Live Betting Hockey
Did a key player just get sent to the box? Is a high-octane line change coming up? Are the fans going rabid? No matter what's going on, Bovada betting offers live hockey bets that make one of the world's most underrated sports even more exciting to watch. You'll probably be glued to the NHL, so let's check out an example from North America's major league.
Here the Devils are going head to head with the Sabres. The Bovada sports betting moneyline favors Buffalo at -165, so your $165 bet gets you $100 if Buffalo comes out on top. Betting $100 on New Jersey gets you $125 though if they can put together a win. You can also bet on a draw, both at the end of the game and at the end of the first period, using the 3-Way Moneyline bets also shown.
When you're doing some sports betting, Bovada almost always offers over/unders. Here, you have your choice of three different totals:
It's very likely that there will be more than 2 goals in this game, so betting the over costs $900 to win just $100. If you're ballsy enough to bet the under, though, you could score a serious payday if neither team is able to put the puck in the net.
Once you get up to 6 goals, things are different. Betting $100 on the over could win you $400 if the game becomes a shootout. There are a ton of prop bets available here, too. Check out the Highest Scoring Period section:
When this screenshot was taken, there was half a minute to go in the first period and the score was zero-zero. A $100 bet on that being the highest scoring period would win you $8,000 if a team managed to score before time expired and that was their highest scoring period. A crazy bet, for sure, but maybe you feel a goal coming on? Could be a major win.
Other props include betting on the exact number of goals scored, which team would score the first goal, and the margin of victory for each team.
Bovada sports betting on hockey games has a ton of variety.
Live Betting Baseball
Baseball has a huge amount of downtime, so it's a perfect opportunity for some live betting as the game progresses and new information comes in. Like with the other kinds of sports betting, Bovada will continuously update the odds as the innings roll by. This means that when an ace is sitting down batter after batter, you'll have a chance to make a fresh wager based on that news. Or if a hitter can't even find the ball to hit a foul, you can work with that.
It's all about adapting on the fly.
The props with Bovada betting on live baseball usually give you a chance to let your knowledge shine. You may be able to bet on the pitcher who will have the most strike outs, the team to score first, whether the game will have extra innings, or which team will score first. Keep an eye on the odds as they change, and strike when you see a bet that's irresistible. 
Live Betting Soccer
More than many other games, you'll get a feel for how a soccer match is going to go by watching it closely. Bovada sports betting almost requires watching the game and staying engaged if you want the best results from your live bets, but soccer is on a different level. While other sports will have a lot of metrics going that reveal the probability of the outcomes, soccer can have a ton of back and forth without any goals recorded. Only someone who is glued to the game can tell you that one midfielder is owning the pitch, and it's only a matter of time before an attack succeeds.
For matches like that, Bovada betting on soccer provides an opportunity to cash in.
Let's check out an example game from the English Premier League:
Everton and Newcastle are in the first half and no one has found the back of the net yet. Newcastle is being offered as a +475 underdog. A hundred dollar wager will win you a whopping $475 if they can carry the day. On the flip side, Everton is a solid favorite at -150. Your $150 bet will win you a cool hundred if the expected winner pulls it off and gets another W.
But what if you want to bet on spreads? Well, we've got some options:
If you want to bet a full goal spread instead of a half goal, you've got that option. As you can see, taking Everton at a .5 goal spread has "favored" odds. The full goal is an "underdog" bet. It seems most likely that the final score of the game will have a one goal difference, according to the statistics. 
Further down the page, there's tons of bets available on the over/under, as well as each team's total goals:
Looks like everyone is expecting a final score of Everton 2, Newcastle 1, and so you can bet accordingly.
For this live soccer sports betting, Bovada also offers some props. These include guessing the correct score, whether each team will have a clean sheet (prevent the other team from scoring any goals), which team will score first, total corner kicks, total bookings (red and yellow card penalties handed out), and even whether a particular player will score a goal. 
Don't get drunk and bet on the goalie, no matter how tantalizing the odds look.