Bovada's Online Casino
Login and play at Bovada - the casino's open!
Sign Up and Play at Bovada's Casino
Bovada online casino just might be the Internet's best place for gaming. We've got a huge variety of casino games for your betting pleasure, including table games, a huge poker community with massive tournaments and guaranteed payouts, and the famous Bovada slots room.
It's all here, and it's only one Bovada casino login away.
Here's how you get registered.
How to Get a Bovada Casino Log in
At the top of the Bovada online casino home page, you'll see a big red Join button in the top right. It looks like this:

Clicking Join will launch a form. Put in your information, then click Register. During that registration process, you'll create your unique Bovada casino login, including an email address and password.
Once that's been created, you'll be able to use the Login link next to the Join button to launch the Bovada online casino.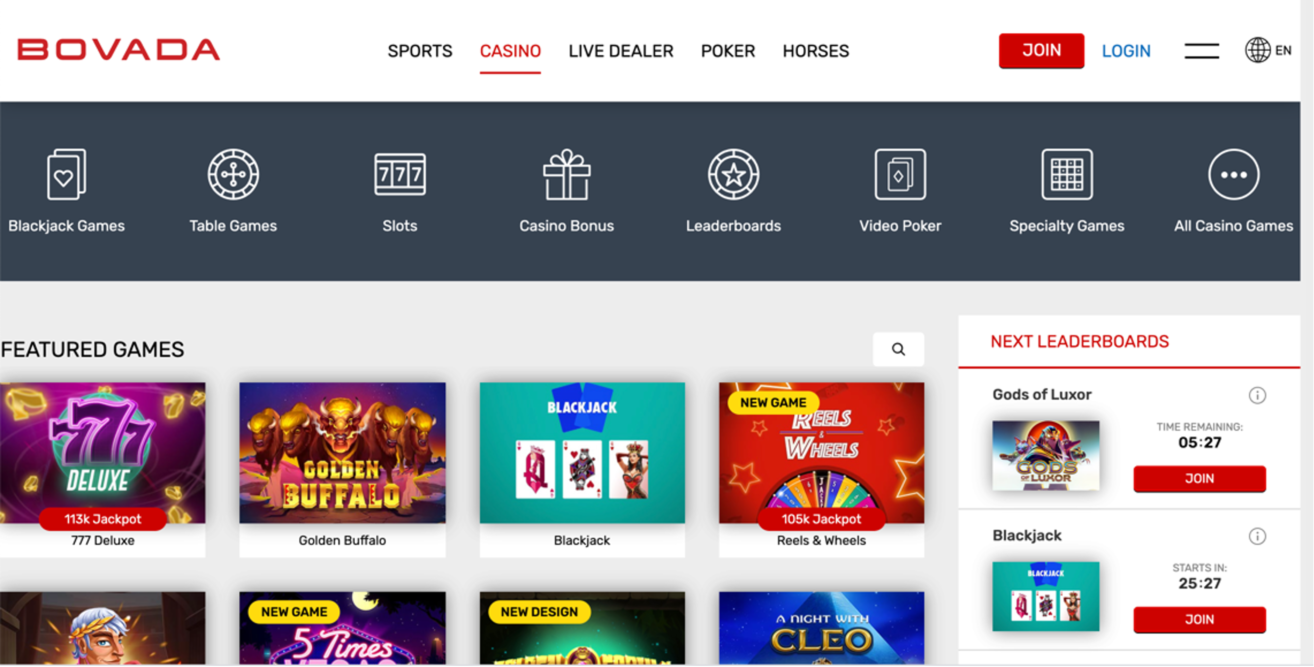 Bovada Has Every Table Game You Need
Once you've got your Bovada casino login, you can access a huge variety of table games. There are classic games like baccarat, roulette, and craps, but you can also get into other table games including Pai Gow Poker, Caribbean Hold'Em, and Roll the Dice (aka "Hoo Hey How"). So, whether you're in the mood for card-based games or something a little different, it's all here at Bovada online casino.
If you see something unfamiliar, it's just a new chance to learn something fun. Each table game features a practice betting mode with fake credits to give you unlimited time to get used to the flow of the game. The rules are also laid out clearly in an info box to the left of each game. That way, you know what you're getting into with each one.
Bovada Has Hundreds of Slots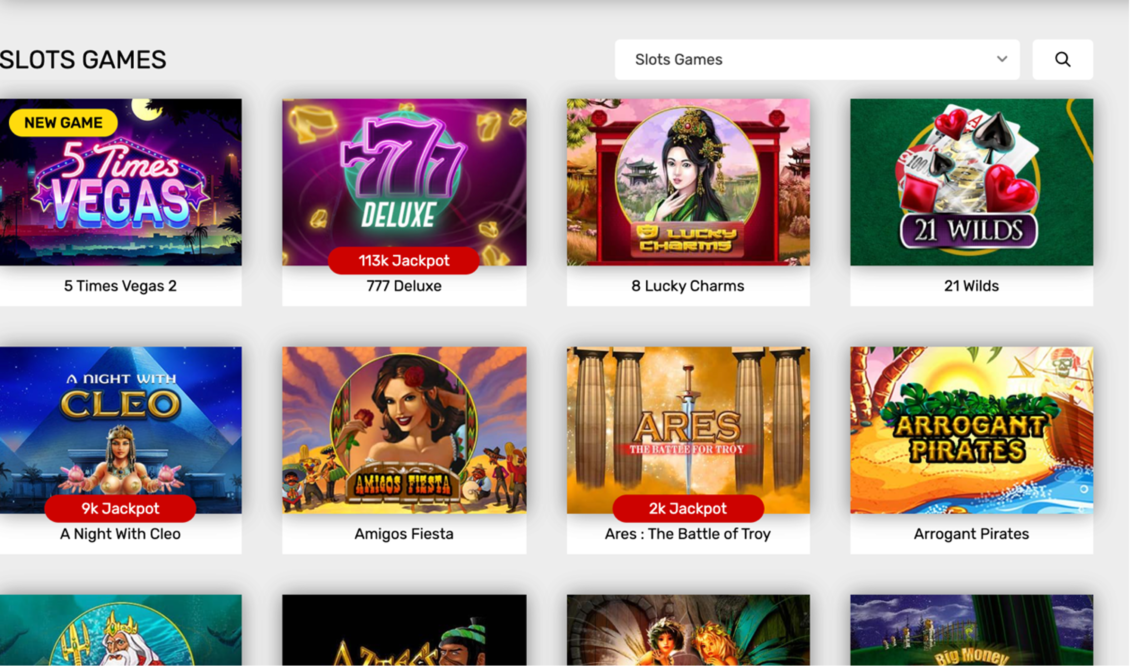 Bovada slots come in a ton of varieties. As you can see above, some include progressive jackpots that give you a shot at mega paydays that can climb into six figures, on a good day. There's lots of different slots themes to choose from, too, including sports, mythology, relaxation, vacations, supercars, and tons more.
Your Bovada casino login is a passport to a whole world of slots.
Keep an eye out for Bovada slots with mini games – this is where you get free spins, win multipliers, and chances to pick hidden prize amounts. And of course, don't forget that Max Bet means max payout.
Big risk, big reward.
Bovada Has Unique Specialty Games
Specialty games are ones you might not think of when you are imagining a casino, but they can be even more fun than traditional games. When you've had your fill of betting on Bovada slots, head over to the specialty games section and try something different.
The heart of these casino games is made up of bingo varieties like Amazonia and Pesca Bingo that are surprisingly exciting. Things happen automatically, so there's no need to mark your own card. As special patterns appear, you can earn bonuses at the Bovada online casino. You can also buy extra balls that could help you complete a big bonus pattern and unlock a huge win.
Bovada Has Video Poker
Bovada video poker is the perfect way to wind down in our online casino when you're in the mood for poker but not up for the intense action of a head to head cash game or online poker tournament. Your Bovada casino login gets you into a straightforward video poker world of five-card draw just like you've probably played in person with friends and family.
Here's how it works:
After you choose your bet amount and cards are dealt, you pick which ones you want to keep. The rest are taken away and replaced with new cards. You then win money according to the payout table, with the biggest wins going to those who can hit a royal straight flush.
No other online players to tangle with. No raising to sweat out. No showdowns to break your good hands.
It's basic poker and it's a great way to relax.
Don't miss out on the variety – if you love wilds or want to play multiple hands at once, you can do it at Bovada in one of our many video poker games.
Bovada Even Has Virtual Sports!
Have you heard of virtual sports betting? Your Bovada casino login gets you into a whole new kind of sports betting that's taking the Internet by storm.
While real sports leagues can be on or off according to their own schedule, virtual sports are happening 24/7 at a much faster pace than major leagues from around the world. Instead of being tied to actual games played by the pros, virtual sports at the Bovada online casino are entirely simulated by computer and the random number generator.
Matches take place in minutes, so you can place your bets pretty much as often as you like. There's also stats and standings, so you can see which virtual sports team is doing well and which isn't. This lets you make sense of the underdogs, favorites, and odds.
Whatever your sport is, check out the virtual sports betting at Bovada and you might be able to find a game no matter what time or day (or year) it is.
Of course, all of this action starts with your Bovada casino login. Click here to get started!