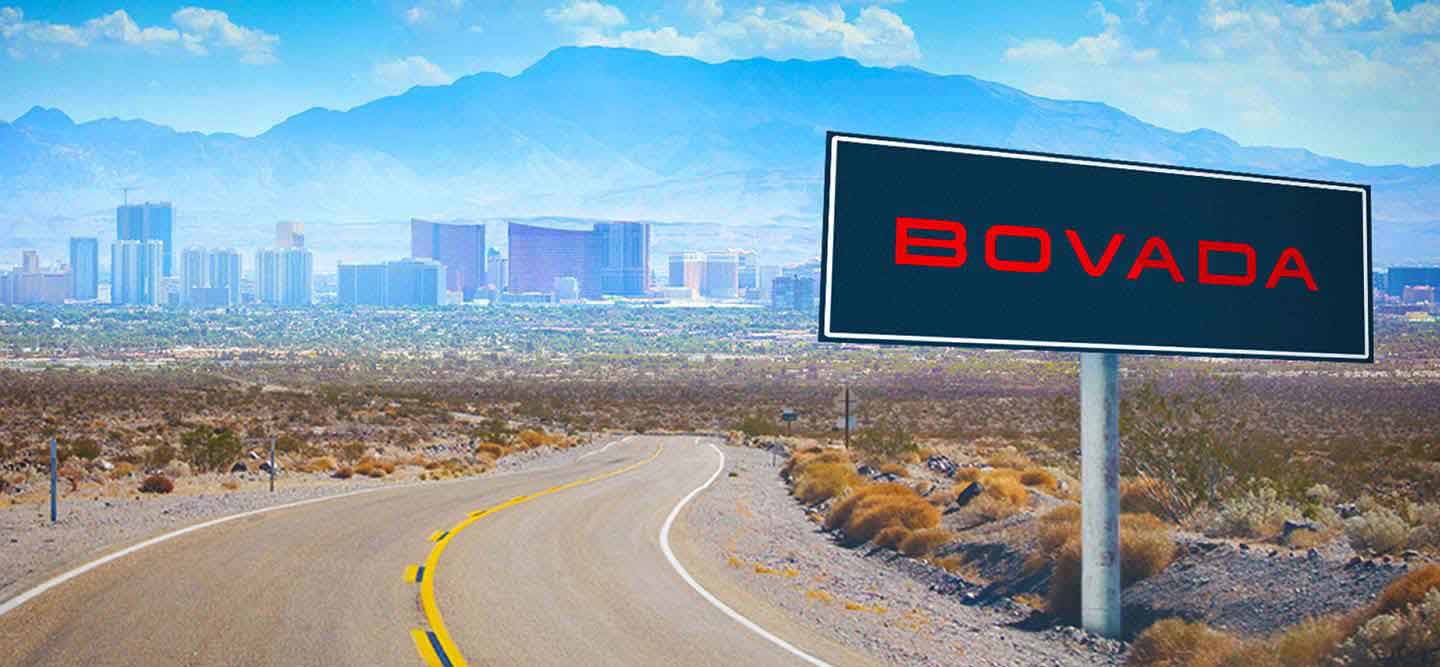 About us
Learn about Bovada and their industry-leading sportsbook, poker room and casino.
About Bovada
Since 2011, Bovada has been a trusted source for gaming and betting entertainment on the web. We're real people who enjoy placing a bet on a big game just as much as you do, so we make it our business to offer the best online sportsbook experience possible. In addition to a sportsbook that's open around the clock, we offer a comprehensive poker room that features popular tournaments and cash games including No Limit Texas Hold'Em and more. Those looking to blow off some steam with a little slot or table game session will find what they're looking for in our massive Bovada betting casino that offers a Live Dealer experience plus hundreds of standard web-based games. Lastly, we can't overlook the ever-popular racebook that heats up every year for the Triple Crown events and Breeders' Cup series. It's all here at Bovada. Welcome to a new way to play in the 21st century.
The Best Customer Service in Online Gaming
We wouldn't have made it this far without focusing on quality customer service, which has been a cornerstone in our growing business since we started. A dedicated team of Bovada customer service agents is available 24/7 to answer any questions you may have about any and all of our products. Simply phone them up on the Bovada contact page, or send a message to get the assistance you need.
If you suspect that your question is fairly common, a starting point to check for an answer would be in our comprehensive Bovada Customer Support Help Center. This page breaks down all of our products and platforms into smaller searchable topics, such as Sports & Events, Casino, Poker, Horses, Account & Security, Vouchers, Bitcoin, and Player Transfer. These topics lead to a list of frequently-asked questions and answers, such as the following.
What deposit methods are available? 
What is a Parlay? 
How do I deposit with a cryptocurrency (Bitcoin, Bitcoin SV, etc.)?
Simply select your question and the answer will appear below. You may also get some helpful visual guidance from our Video Library that takes you through things like how the bet slip works, how to place a parlay, how bonuses work and several options dedicated to helping you learn how to use Bitcoin.
Hundreds of Casino Games at Your Fingertips
Thanks to our virtual casino, there's no need to go out to a brick-and-mortar venue to access your favorite games anymore. We have every type of casino game imaginable right here—and they can be played on your computer and smartphone. That kind of convenience is really hard to beat these days.
There are two ways to play casino games at Bovada: the standard way and the Live Dealer way. Our standard casino games can be played straight from our website and use algorithms to determine the outcomes of each round. They're played solo, which allows you to control the pace of the game. They're the best option when you want something quick or when you're first learning, and with hundreds of options, they also offer the greatest variety. Everything from slots to table games to video poker, as well as classics like Bingo and Keno, are available as standard online casino games at Bovada. The only thing that these games lack is the human element, which is why some people choose to explore the Live Dealer section of our casino.
With real people spinning the wheels and dealing cards, the Live Dealer Casino aims to recreate the land-based casino experience, with the benefit of getting to play from home. Scroll through the list of games currently running, along with the assigned dealer, and pick the game/dealer combination you want. Additional betting options are available with Live Dealer games, including back betting with Blackjack.
Endless Card Games with Bovada Online Poker
Poker is a big reason why players sign up for an account at Bovada, and it's easy to see why. We're avid poker players ourselves and have been perfecting this product for a long time now. Rewards points, a generous sign-up bonus, game variety, tournaments, innovative game formats and features, and anonymous tables are all included in our poker client, contributing to a quality poker experience.
Poker can be played just about any way you want at Bovada. While most players opt for the classic Texas Hold'Em, you can also play Omaha and Omaha Hi/Lo with different limits. Cash games and tournaments are always on the go; we have daily and weekly tournaments, plus annual festivals like the Black Diamond Poker Open and Golden Spade of Poker Open, which make it possible to win life-changing sums of money—if you can survive long enough in the tournament.
If you prefer quick and dirty poker sessions, our Zone Poker and Jackpot Sit & Go's were designed for you. Zone Poker shuttles you to a different table as soon as you fold a hand, making it the fastest way to stay in the action. Meanwhile, the Jackpot Sit & Go's give out quick payouts. As soon as your three-player table fills, a Jackpot Wheel is spun to determine the jackpot sum offered as a payout; then you're each given 500 chips, and the first person to accumulate all 1,500 takes the prize. To make things more interesting, the blinds increase every three minutes.
As you play these cash games and tournaments, you'll collect poker points through our poker rewards program. This funnels some of the money paid in rake right back to you. You may not readily notice the points, but at some point in your poker journey, you'll get to redeem them for tournament tickets—and there's nothing better than playing in a tournament free-of-charge.
Bet on Every Sports Matchup and Event
Sports betting is how we started our business and it's the reason the majority of people sign up for a Bovada account in the first place. All of the major leagues are open for betting in a multitude of ways, and there's also several obscure sports betting options that are catching on in smaller markets.
For the most part, a game that's happening live or scheduled to happen in the near future will appear in our sportsbook with a spread, moneyline and total available. Simply click the odds you want for the team you want, and it'll be automatically added to your virtual sports betting slip. To get the full range of betting options, click on the matchup, and a new page will appear with all of the betting options for the event. Use our popular Prop Builder to beef up your slip with various props, check out the alternative lines, and go over your betting options for segments of the game. There are many different ways to bet on sports. Major events, like the Super Bowl, will have several pages of betting options in advance of kick-off, but if you don't get to fill out your bet slip ahead of time, you can always join the action in real time through the Live Betting page.
Anyone new to sports betting will benefit from going through our Sports Betting Guides first. These explain the betting process for each major sport—while also filling you in on the latest updates for the top teams on the odds board. Learn the difference between moneyline betting and parlays, so that you can get the most out of your sports betting experience.
Bet on the Ponies with the Bovada Racebook
No online betting experience would be complete without an opportunity to bet on horse races—and that's exactly what you get to get with our virtual racebook. Daily races are included for a variety of different racecourses. Simply select your preferred track, and see what's happening.
The major events on the horse racing calendar are a big draw to the racebook, too. Every May, the Kentucky Derby attracts hundreds of thousands of spectators who want to make their experience more significant by placing a wager on their favorite horse. The Belmont Stakes and Preakness Stakes are the other can't-miss races that make up the North American Triple Crown, and anytime we have a Triple Crown candidate, the excitement reaches new heights.
What better way to conclude the year's horse racing calendar than with the Breeders' Cup races in late October/early November? This annual event is also a great way to catch a glimpse of the following year's top three-year-olds thanks to the Juvenile Cup.
Any horse race offers two approaches to betting: straight forward Win/Place/Show bets, or exotics. Recreational bettors just looking for a good time will likely find just that when they place a straight bet; find the horse you like, and bet on it to win, finish second, or finish in the top three. Exotics include things like trifectas and exactas, which ask you to pick more than one horse. To win a trifecta, for example, you need to pick the winner, runner-up and third-place finisher. It's a tall task, which is why it pays so well compared to the straight bets.
We trust that whatever your betting preference is, be it sports, poker, casino or horses, you'll find what you're looking for at Bovada. Join our online network of avid fans who like to have a little betting fun in their spare time.