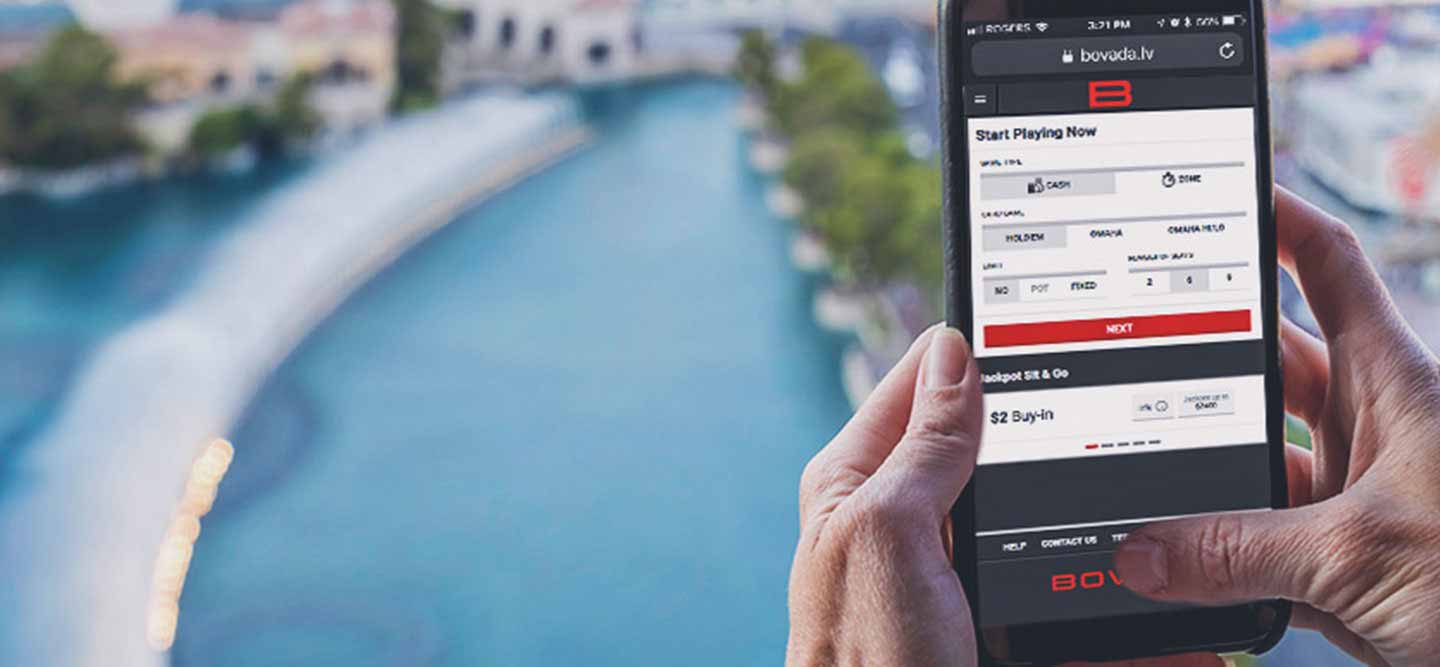 Mobile Betting
All of Bovada's betting products are available through mobile. Find out why mobile online betting is such a hit in this mobile betting guide.
Bovada's Mobile Betting
Nothing beats the convenience of mobile online betting. No matter where you are or what you're doing, mobile betting gives you access to our sportsbook, poker rooms and casino at the drop of a hat. All you need is a smartphone and internet connection to recreate the same betting experience you're used to on the computer and laptop—but in a more convenient format.
Bovada mobile has been a huge hit with busy people who need a sportsbook and casino that can fit into their demanding schedules. When you go mobile, you can get in a few rounds of poker between meetings, or place a quick bet right at the venue of a game—anything is possible. Nowadays, we do everything from our smartphones, and the Bovada betting experience has followed suit.
About Bovada Online
The Bovada customer service team has been the cornerstone of our online business since we first began in 2011. Call in any time, day or night, 365 days a year, and our agents will be happy to help with any queries you may have. Even topics that seem vague or foreign, such as how to get into Bitcoin betting, can be explained in simple terms by our helpful customer service team.
There's no denying that betting sites come and go, but Bovada has been an industry leader in the US for over a decade now and is here to stay. We have been building and improving our betting services since we began as sports betting enthusiasts, and are pleased to provide the best betting platform on the net. Just ask the hundreds of thousands of players who choose us as their preferred betting service provider every day; to them, we are the only trusted and reliable source of betting entertainment worth using.
How to Play Games on Bovada Mobile
Over the last 20 or so years, we've seen a shift from brick-and-mortar casinos to online casinos to mobile casinos. As people's lives get busier, they gravitate toward the most convenient form of betting entertainment, and our mobile platform is the king of convenience. There's no need to drive anywhere; you can bet at any time of the day, and there are no apps to download and install onto your phone. Simply open your phone's internet browser, punch in Bovada.lv, and the mobile version of our website will load automatically, as it will detect that you're using a smartphone. With everything scaled down for optimal mobile browsing, you're free to log in to your account as you normally would. All of the same games from our "desktop site" are available on our mobile site—for both real money stakes and Practice Play mode.
In order to launch a casino game in "mobile" mode, you'll need to flip your smartphone from Portrait to Landscape; if you have trouble doing this, check your settings to make sure your phone is not in Orientation Lock. All of our casino games require your entire screen as a display and usually hide the infrequently-used buttons (rules, game settings, volume) in a "Hamburger" icon (three stacked horizontal lines). If there's no obvious Hamburger icon on your display while the game is in play, try swiping the screen left and right.
Although all of our casino games can be played on your smartphone, some are more smartphone-friendly than others, especially with the table game options. Roulette (both American and European), Baccarat, Craps, Tri Card Poker and three versions of blackjack (Single Deck, Double Deck and Six Deck), all come in two versions. The "Classic" version is the original and best suited for desktop gaming. The newer versions, which all have blue backgrounds on the game cards, are mobile-friendly, as the game screen morphs and adapts to display things on an as-needed basis. And since these versions are newer, they also have interesting settings, including the ability to choose between three different styles of decks of cards.
Play Poker on Bovada Mobile
The same great poker experience rendered from our downloadable poker client can be experienced on our mobile network. If you've got an Android or iOS device, tablet or smartphone, you can become a global poker player and take your poker game with you anywhere in the world. Cash games, tournaments (both single-table and multi-table) and our popular Zone Poker and Jackpot Sit & Go's can all be accessed through your smartphone's browser. Simply type in http://m.bovada.lv/poker and log in to your Bovada Poker account to see how it works. The full menu of poker tournaments and cash games will appear on your smartphone, including major annual festivals like the Super Millions Poker Open and popular weekly tournaments, like the 150K Guaranteed.
Seasoned poker players who prefer to maximize their earnings through multi-tabling can do just that with our mobile poker network. Up to four tables can be played simultaneously using your smartphone, but if you want more than that, you'll need to log on to the desktop poker client. Both real money games and play money games are available to our mobile poker players, making it the ideal platform for beginners and pros alike.
Place Any Sports Bets on Bovada Mobile
It happens to the best of us. You leave for a live sports event, and when you arrive at the venue, you realize that you forgot to place a bet on the game beforehand. This unfortunate scenario won't ever happen to you again because you can place bets on sports games straight on your smartphone through Bovada Mobile. It's quick and easy to use our mobile sportsbook; simply key in Bovada.lv and log in with your email and password.
When you go to our Sports page, the Trending Events will appear in the center of the screen. These are the leagues and tournaments that most people are betting on at the time. At the bottom of the screen, you'll find a bar with buttons for the Live Betting page, other major leagues, a Search option, a mobile Bet Slip and a button for "All", which brings up all of our sports betting options, with everything from Aussie Rules to Winter Sports.
The mobile Bet Slip is easy to use, even if you've never placed a bet in our sportsbook before. Each game has both teams listed, along with odds under the moneyline, spread and totals. Select the odds for the bet that you want, and it will be added to the slip automatically. With the slip now displayed on your phone's screen, you can enter the amount you want to risk, and you can scroll down to see your possible winnings which are displayed at the bottom of the slip. When you add more than one bet, the Parlay option appears under "Multiples" button. Straight bets are placed under "Singles" and toggling between Singles and Multiplies is very easy to do with just a tap of your finger.
Deposit, Withdraw and Have Fun
The entire betting experience at Bovada can be done via mobile, and that includes the deposit step right up front and the withdraw step at the end. You'll need to log in to your account in order to do either. Just locate the "Profile" icon (Cashier icon for poker players) at the top corner of the display; this button will bring forth all of the options and settings that appear when you log in to your account on a computer. Click "Deposit" to populate all of your deposit methods and key in the appropriate information to complete the transaction. The same steps should be taken to withdraw funds—you'll have all of the same deposit and withdrawal options that you're used to, including cryptocurrency (ex. Bitcoin and Bitcoin Cash), major credit cards, a voucher code and certain Visa and MasterCard gift cards. If you have any questions regarding deposits and withdrawals, check out the Financial section of our Help Center.
Keep in mind, mobile betting is a source of fun entertainment for adults. For casual sports fans, it provides an opportunity to be more engaged in the outcome of a game, whether it be a major championship or a regular season matchup against a heated rival. When your chosen team wins, you win, too. As for poker players, you can develop and show off skills that set you apart from other players at table, while collecting their chips. Whatever your betting forte, one thing is for certain: going mobile takes your experience up a notch. Whip out that smartphone and get a taste of it today.