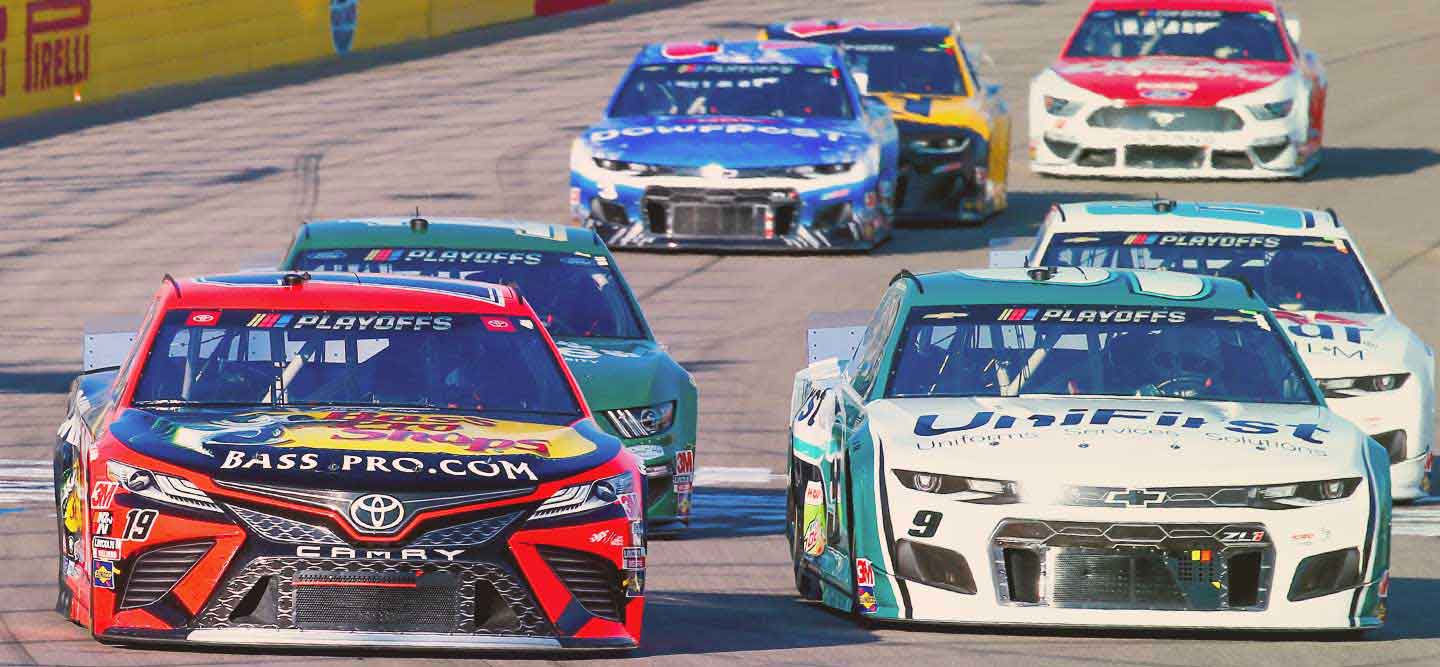 Intro to Race Betting
Bet on your need for speed
NASCAR Betting Guide
A NASCAR race might look simply like a bunch of cars going around and around a loop forever to an outsider and if you're not a fan, then you should stick to Basketball or MLB Betting. But anyone who's a fan of NASCAR knows that there's no rush quite like tearing up a track at the speedway. And if you can't get into the driver's seat, NASCAR betting online at Bovada is the next best thing. And if you can't get into the driver's seat, NASCAR betting online at Bovada is the next best thing.
You can even wear what you want, drink what you want, and bet on who you want.
It's a pretty sweet deal.
But just like real racing, you don't want to slam the pedal to the medal before understanding the basics, so in this NASCAR betting guide, we cover how to understand NASCAR odds and how to place wagers at Bovada's NASCAR sportsbook. Get these concepts down and you'll exit the pit fully fueled and ready for betting on races!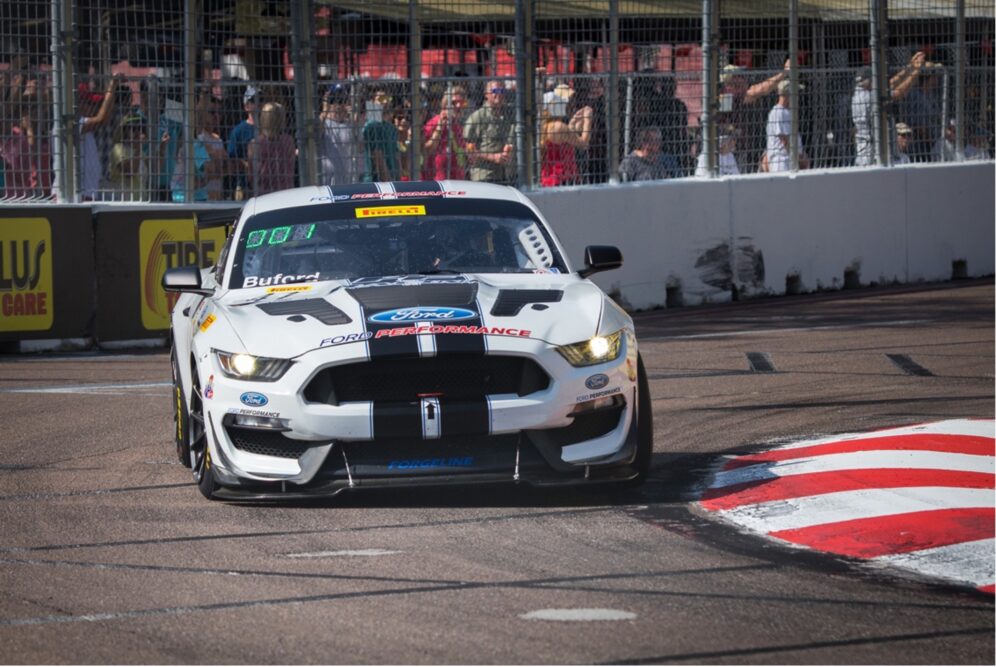 NASCAR Futures Betting
NASCAR futures betting at Bovada focuses on racing events that will be decided in the future. Instead of betting on today's race, you might be betting on who will win the NASCAR Cup Series and take a well-deserved champagne shower and rip some righteous donuts in celebration.
Here's what championship NASCAR odds might look like at the Bovada NASCAR sportsbook: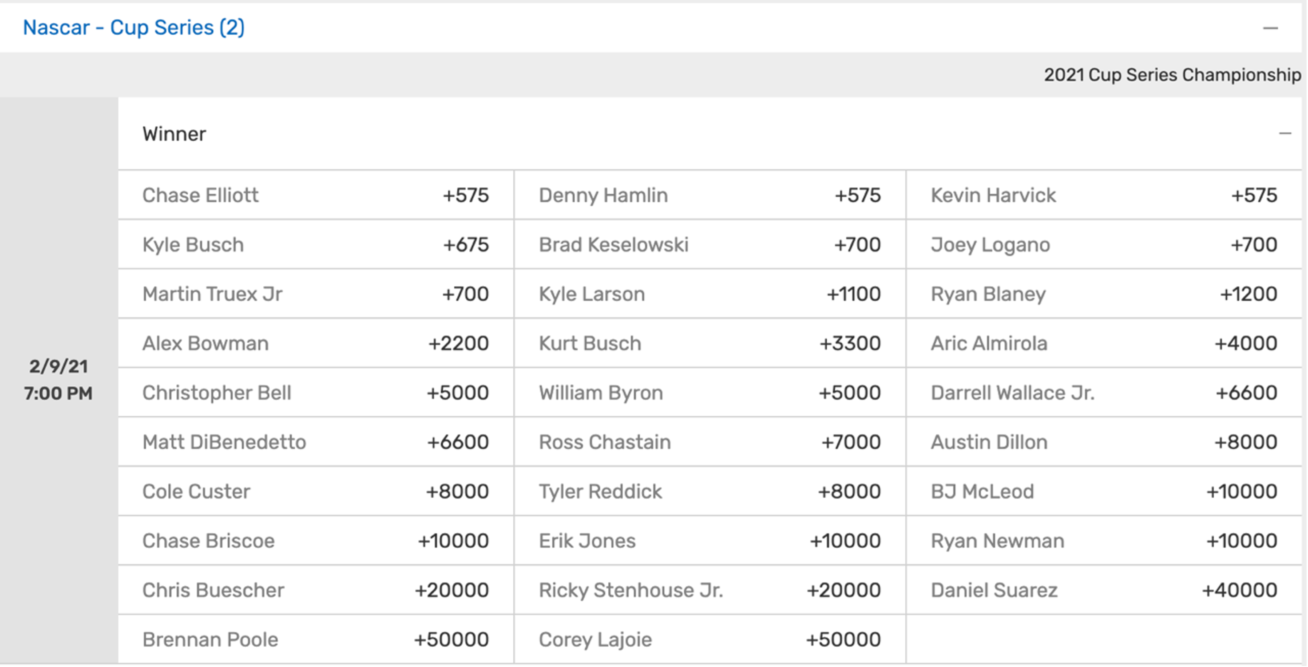 You can see that Chase Elliot, Denny Hamlin, and Kevin Harvick are in a three-way tie for the best odds at +575. A $100 bet on any of them would win you $575, if that driver were to win it all.
Outright Winner and Place Betting
NASCAR betting online on the outright winners of races are some of the most popular bets to make. Here you're simply betting on who will win a race at the end of the day. The problem is, there are 40 drivers in a race, so you're rarely getting easy odds at a NASCAR sportsbook. Here's a look at an example from Bovada's Daytona 500 betting odds: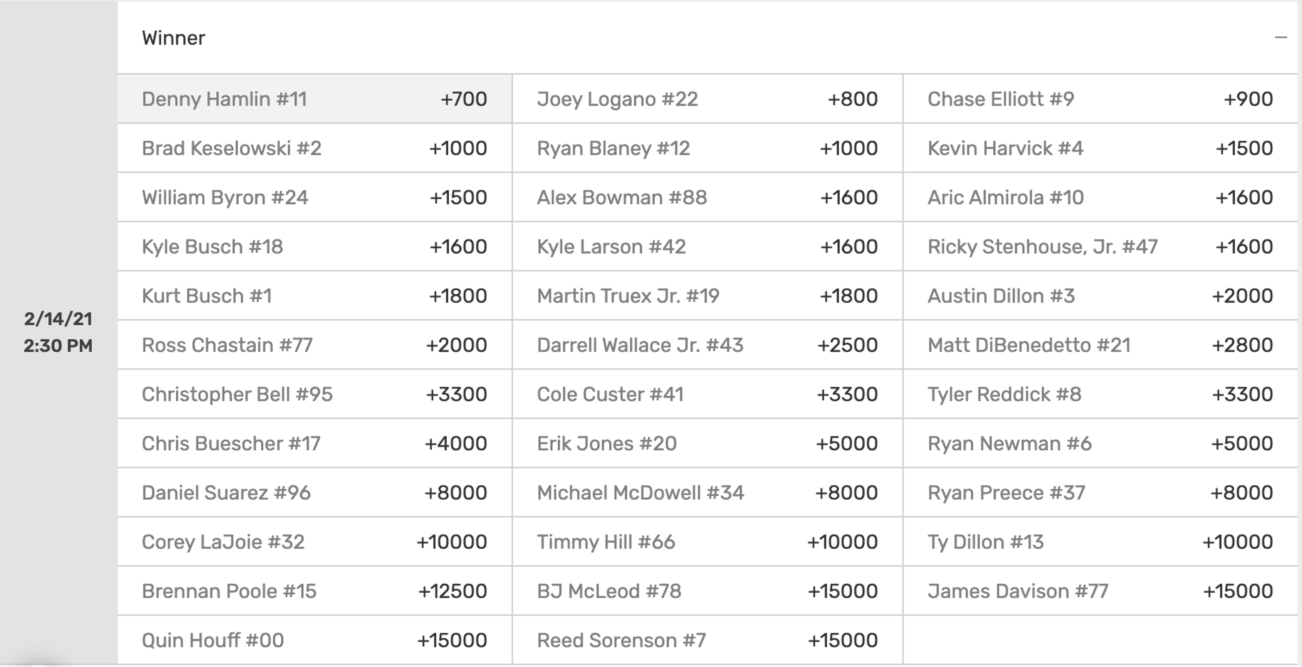 Even for the "favorites," you're getting longer odds than a typical favored bet in any other sport. Denny Hamlin is available at +700, which means you bet $100 to win $700 if he finishes first. In the middle of the list of drivers you can pick up your choice of Busch at +1600 and +1800. And if you love crazy longshots, you can place a bet on Reed Sorenson to shake and bake his way to a NASCAR betting miracle.
Because picking an outright winner in racing is tough, there's also NASCAR odds offered at Bovada for place betting. Here you can simply bet on a driver to make the top three or top five in a race. This kind of a bet is a lot more reliable, and often offers more favorable odds, but a smaller payout.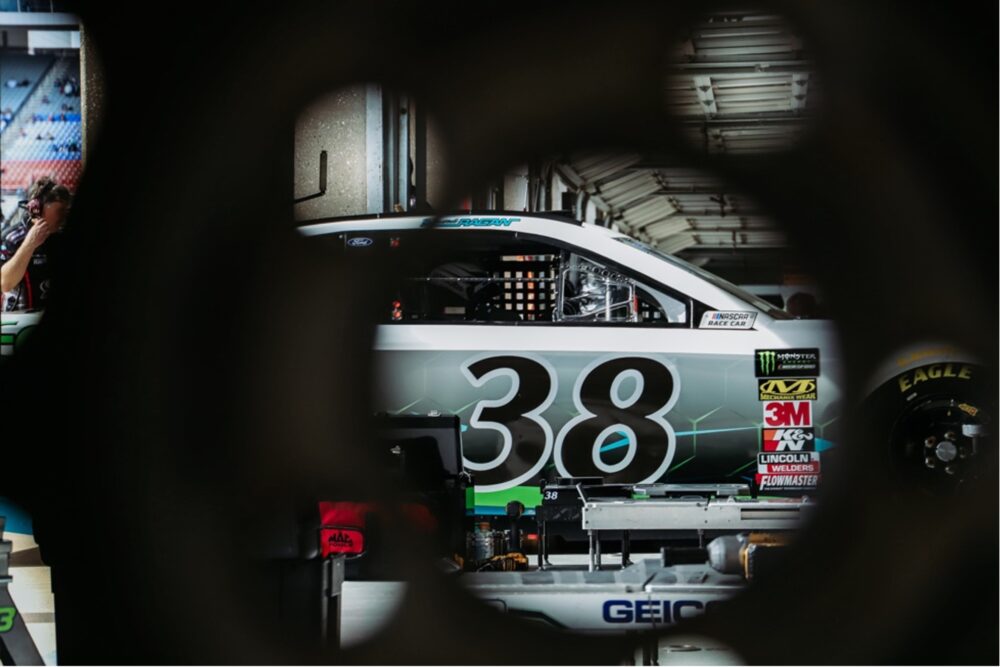 Head-To-Head Betting
Did you know NASCAR betting online lets you bet on grudge matches between drivers?
Head to head betting gives you a choice of driver so you can bet on which one will get more points in a given race. If you're good at comparing drivers in races when you analyze NASCAR odds, this could be a profitable bet type to work with.
You'll often see these head to head bets on races represented as moneyline bets at a NASCAR sportsbook like Bovada. For example, you might see:
Joey Logano -170
Cole Custer +130
This means that Joey Logano is favored and Cole Custer is the underdog in this head to head bet. A bet of $170 on Logano would pay out $100 if he had more points at the end of a race than Custer. On the other hand, if you bet on Custer, your $100 could win you $130 in profit if he manages to earn a higher points total on the day.
In general, the minus sign tells you that a bet of that amount wins you $100. The plus sign means that a bet of $100 wins you that amount. Betting on NASCAR odds favorites means you put more money at risk for a small reward. Betting on racing underdogs takes less money and offers bigger winnings, if you've got the stones to place the wager.
Fastest Lap Time
Let's say you don't know who's going to take the checkered flag in a race, but you know an absolute demon who has a shot at tearing up the track and recording the best lap time of the day. Now you can check the NASCAR odds at Bovada and bet on the driver with the fastest lap time. Again, a NASCAR sportsbook like Bovada will probably have these odds represented as a moneyline for a race, so search for a nice payout and place your bet.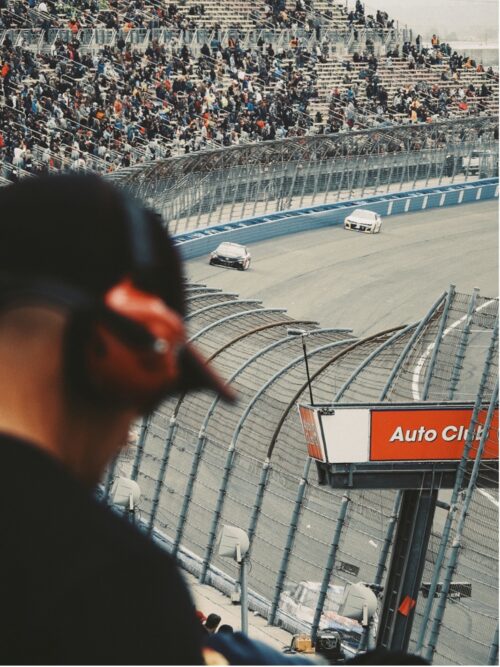 Pole Position
There's one last bet type to cover before we let you enter the first stage of NASCAR betting online: pole position bets.
In this type of bet, you get to choose which driver will have the fastest qualifier before a race. No matter what a driver does during racing, it's a totally different game when you're gunning for pole position. Qualifying laps are done completely solo, not head to head against other drivers on the track. Instead, there's a clear raceway and a driver can simply put his machine to the test to see how fast he (or she) can get around the track.
A NASCAR sportsbook like Bovada that offers pole position betting is giving you a shot at placing a wager on which driver will have the best qualifying time. If you know who's car, crew, and driver have the best pure ability to speed around the track, this might be your best bet.
Head to the Bovada NASCAR betting online portal and start your engines today!